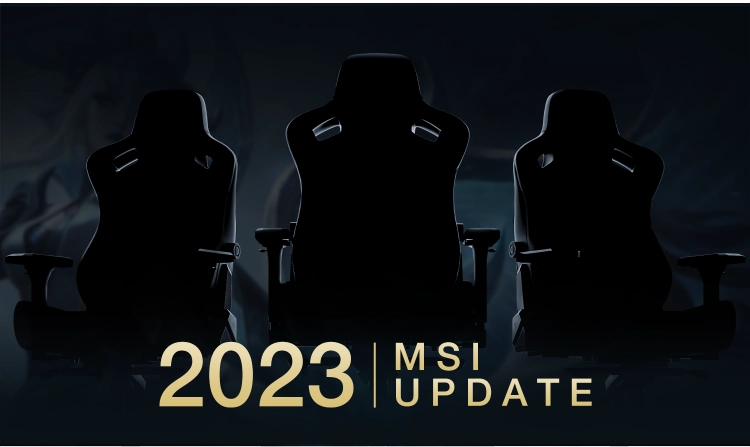 AndaSeat Gaming Chair Special Offers
for MSI 2023
AndaSeat Gaming Chair Special Offers for MSI 2023
Exciting news for all gamers! Andaseat is gearing up to celebrate
MSI 2023
with an amazing promotion that you won't want to miss. From April 24th PST to May 22nd PST, we are offering a chance for our customers to win amazing prizes including three free gaming chairs, five 50% off discounts, and an $80 discount on our Kaiser 3 Series gaming chair. It's the perfect time to upgrade your gaming setup.
AndaSeat
gaming chairs are designed for maximum comfort and style, with adjustable features to fit your unique needs. Whether you're a professional gamer or just enjoy gaming in your free time, our chairs are the perfect addition to your setup. And now, with our MSI 2023 promotion, you can get a top-of-the-line gaming chair for a fraction of the cost.
To participate in this promotion, all you need to do is explore our range of gaming chairs, choose your preferred one, such as the
Kaiser 3 gaming chair
, and while checking out, leave a message predicting the winning team of MSI 2023. Don't forget to provide your accurate contact details so that we can inform you in case you win!
Prizes
FREE
Premium AndaSeat gaming chair
50% discount
for your order
$80 OFF
for Kaiser 3 series gaming chair orders
Winner
First prize( Free Premium AndaSeat gaming chair )
Order ID
#AD4962
#AD5044
#AD5096
Email
ra**oo.com
an**il.com
th**il.com
Prize
Kaiser 3 black gaming chair
Kaiser 3 black gaming chair
Kaiser 3 black gaming chair
Second prize( 50% OFF )
Email
nu**il.com
jr**il.com
Prize
Kaiser 3 black gaming chair
Kaiser 3 black gaming chair
Here's how it works:
Winning amazing prizes is as easy as placing an order on our website and leaving your predicted MSI 2023 champion team name in the "Add a note" section at checkout. If your prediction is spot-on, you'll automatically be entered into our lucky draw.
Learn More about MSI 2023!
Notes:
he selected winners will receive a notification in two bussiness days via email and will be rewarded with a refund for their purchase. Please keep an eye on your email or visit our official website for updates, and we wish you the best of luck and an enjoyable experience!